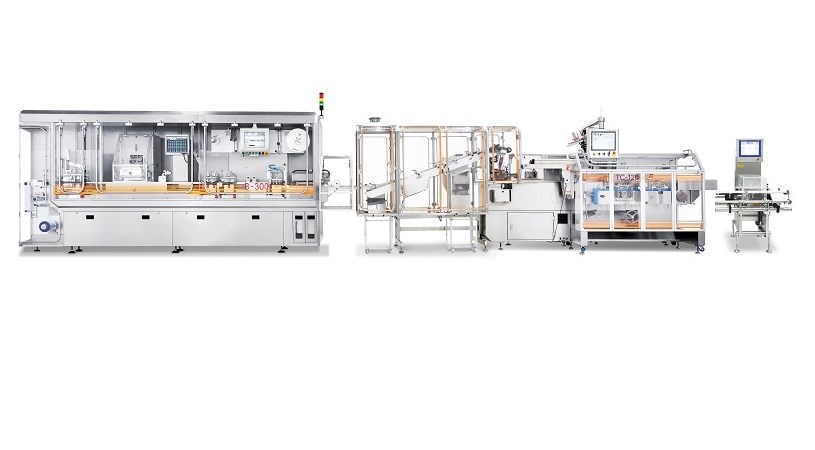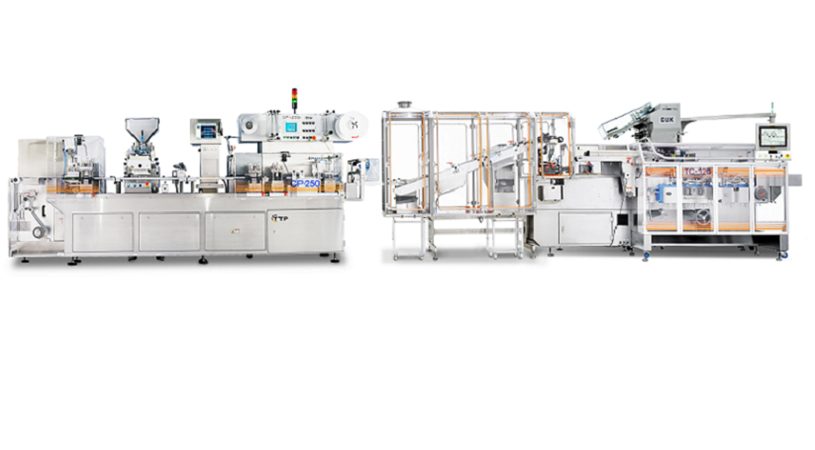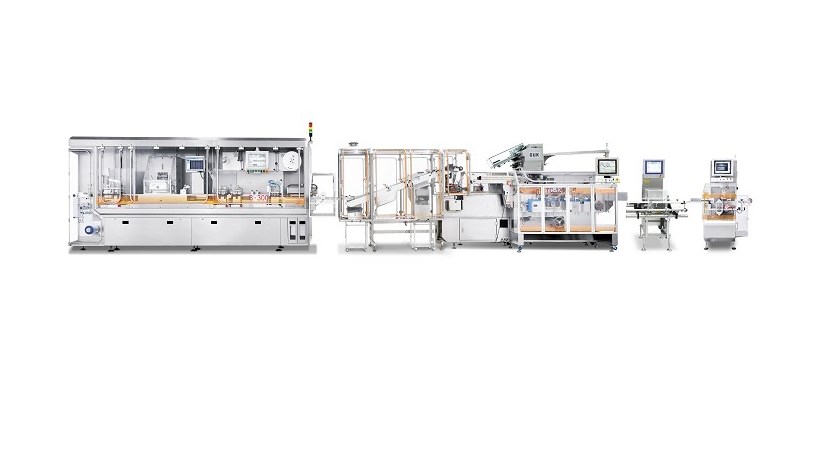 Packaging is the last stage in production carried out for the purpose of safety of pharmaceutical preparations and it protects them free from environmental damages (e.g. humidity or light exposure) throughout their shell life. This process is critical to product quality and also affects the whole business when the drugs reach the patients.
In order to meet such demand, Tien Tuan designed and developed packaging line including the machines integrating with each other and synchronised.
Following that, blister packaging machine is used to pack tablets, capsules, vials, ampoule in PVC, PVDC, PET, Aclar, Alu. Blisters. Apart from basic function, the machine can be installed additional options to maximize its capacity and increase quality control complying to requirements of GMP.
Blister packs after sealing are transported to cartoning machine for secondary packaging. By automatic blister counting, leaflet auto folding and inserting into the box, finished blisters are packed automatically as set on HMI.
The machines achieve CE certificate and conform with cGMP (FDA), GMP-WHO, GMP-EU, PIC/s, GAMP5.
Blister- Cartoning line B-300 & TC-120
The Blister - Cartoning line B-300 & TC-120 is designed as CE compliance, FDA compliance and suitable for contained products, as different OEL levels.
All functions, mechanical parts are made in accordance with ergonomic standard. Users can benefit from comfortable and user friendly operation.
The line is designed with the heighest safety features. Any missing, broken, wrong tablet, wrong color, chipped,… will be rejected individually. Any pin hole on Alu/Alu blister down to 25µ will be detected and rejected. When the box has no forming, there will be no feeding. When there's no leaflet, no feeding. When the quantity of blister is not correct as setting, no blister feeding into caton box, and it will be rejected automatically.
For cartoning machine, working area is separate from motive parts thus operator can conveniently conduct easily. Tamper- evident sealing is available.
Operation, monitoring and reporting are done via HMI.
Critical parameters are recorded, saved following 21 CFR Part 11.
It can connected with Checkweight for final check and available for serialization.
Machines are ready for SCADA integration which is provided by Tien Tuan to achieve total supervision for the factory.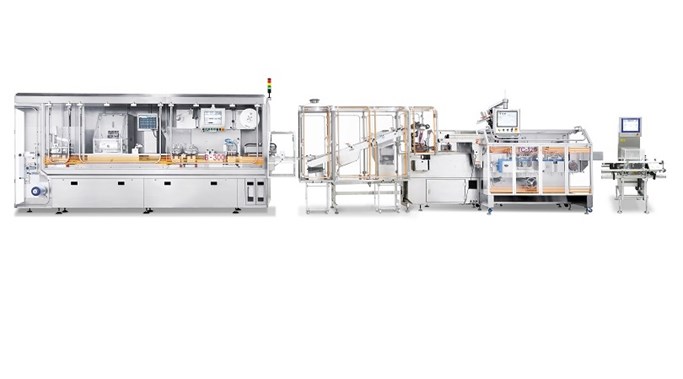 Blister- Cartoning line CP-250 & TC-120
The Bister- Cartoning line is used to pack tablet, soft/hard capsule, vial, ampoule, bottle,... into PVC/Alu, PVDC/Alu, Alu/Alu,... blister and then packing blister into carton box automatically.
The blister is suitable for many different methods of automatic feeding for different types of products.
PLC S7 and user-friendly Touch screen or Industrial PC as option.
21 CFR PART 11 (FDA) compliance.
Data, recipes are possible to access, manage store and export into USB for report.
SCADA network is available.