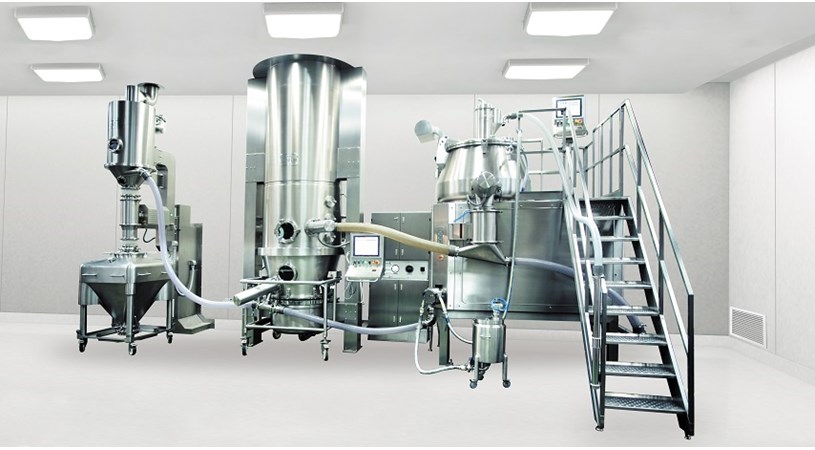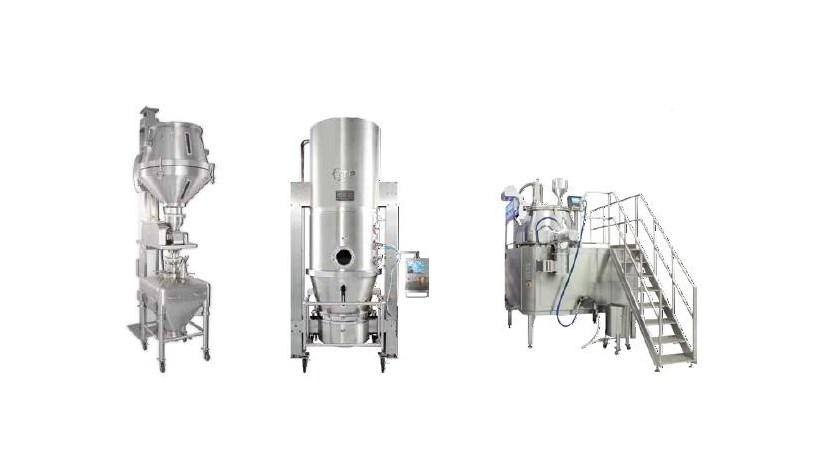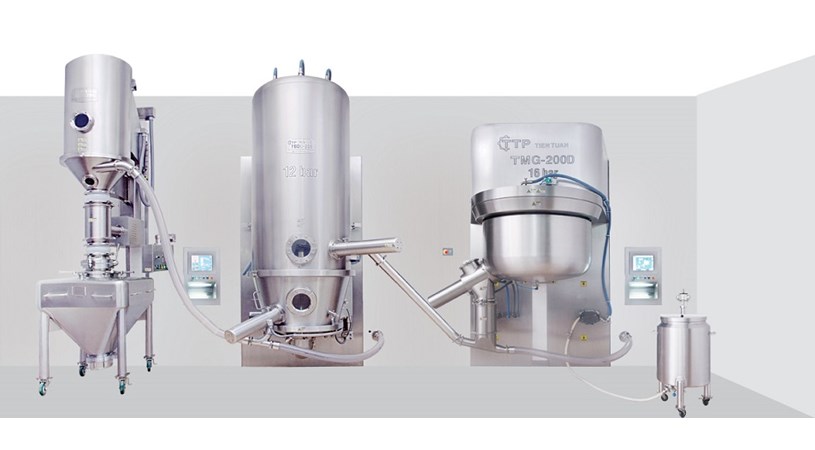 Granulation line is the most important equipment in pharmaceutical manufacturing process. There are many ways of classification such as: intermittent lines (independent machines), integrated line (synchronised machines), non-Atex line (water/aqueous based), Atex line (solvents based), containment line (for toxic / anti-cancer drugs),...
Tien Tuan provides all solutions for granulation process from intermittent line, non Atex/ Atex line to containment line.
The whole process is done automatically with the batch report software in a timely and objective manner according to 21 CFR part 11 guidelines.
Reporting function allows exporting batch reports, access and drawing intuitive graph showing fluctuation of critical parameters during operational process. Data is collected and exported quickly and accurately.
Machines are available for SCADA integration to offer complete management tool for ERP system.
Machines are certified with: CE, ATEX, PED.
They conform to pharmaceutical standard: PIC/s, EU-GMP, cGMP, GAMP5,...
The overall layout of granulation process can be horizontal or vertical depending on site layout of customer.
Closed Granulation line "Wall-mounted"
Nowadays, there are more and more requirements relating to containment for production, especially for cypertoxic or high additive product, with alcohol and organic solvents , TTP designs, fabricates through – the – wall granulation line "wall- mounted" not only to protect operator's health but also to improve manufacturing yield.
Besides, "wall-mounted" design is the optimal selection when cleaning validation, ease of maintenance along explosion proof requirements are taken into account. The dividing panel facilitates separation between working area and technical area that conforms to ATEX guidance.
The whole granulation process is closed. For instance, materials are stored inside IBC. Vacuum loading or gravity loading from IBC to vessel of High speed mixer is controlled automatically.
Granulation line can be designed for 12 bar pressure shock resistance in case the process needs to work with flammable solvents.
All machines are controlled independently or they are integrated to fulfill operational demand, parameters recording and recipe saving. Control system adopts PLC and touchscreen or industrial computer (IPC).
By implementing new technological innovations such as tangential spray, online monitoring according to PAT, SCADA integration, etc., the equipment's downtime is significantly reduced and production yield is largely increased.
Maintenance work is conveniently accessed from the back where is defined as "technical area". Besides, toolless design also facilitates quick installation and maintenance.
WIP/ CIP function is installed on individual equipment or via one movable WIP station. Cleaning process can be standardized and easy for validation.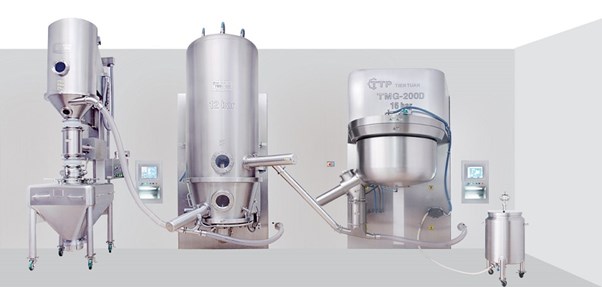 Closed granulation line "Free standing"
Closed granulation line is a closed, fully automatic production solution from the input feed to the end product, suitable for a highly specialized production process, freeing up labor force, satisfying stringent requirements on product quality, humidity, exposure level.
Closed connection helps simplifying manual procedures in operation; control dust release and leaking of material during the process. High automation level also helps reducing significantly production time.
The machines are controlled individually or integratedly to fulfill operational demand, parameters recording and recipe saving. Software allows monitoring and audit changes according to 21 CFR Part 11.
Wash – in – place (WIP) automatically runs by preset program. All product contact parts are guaranteed to be cleaned totally.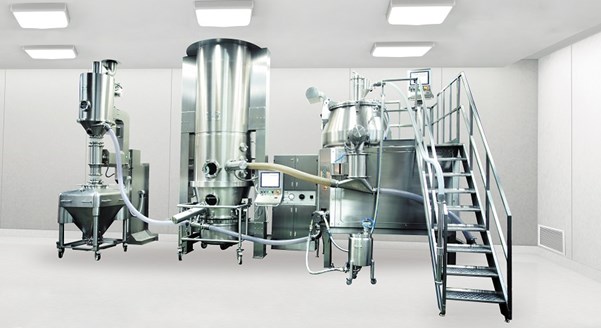 Granulation line "Intermittent"
Intermittent granulation line is commonly used in many pharmaceutical plants because of its simplicity, easy installation, medium automation level, low investment cost, suitable to not big batch size and not too high concern for hygroscopicity and exposure, etc.
Granulation process starts from material loading to high speed Mixer & Granulator. Wet granules after mixing go through Inline Milling are discharged to product container of Fluid bed Dryer & Granulator. Once drying stage finishes, operator pushes product container to lifting & tilting device. With support of the lifter, dry granules freely fall down to IBC and ready for final blending.