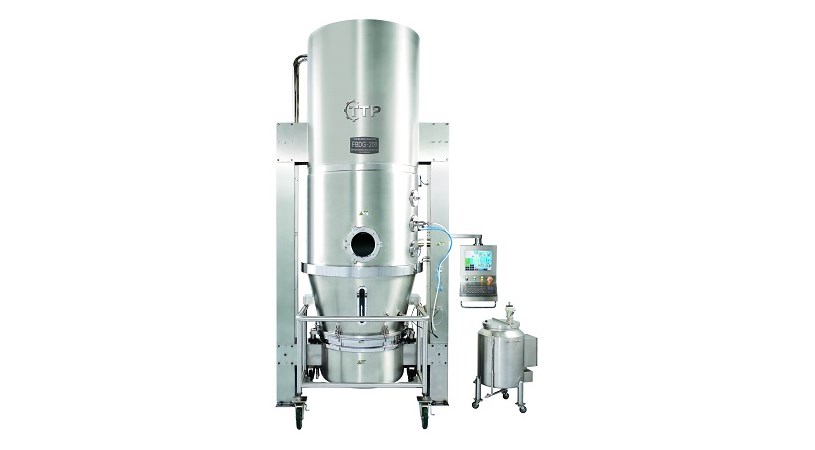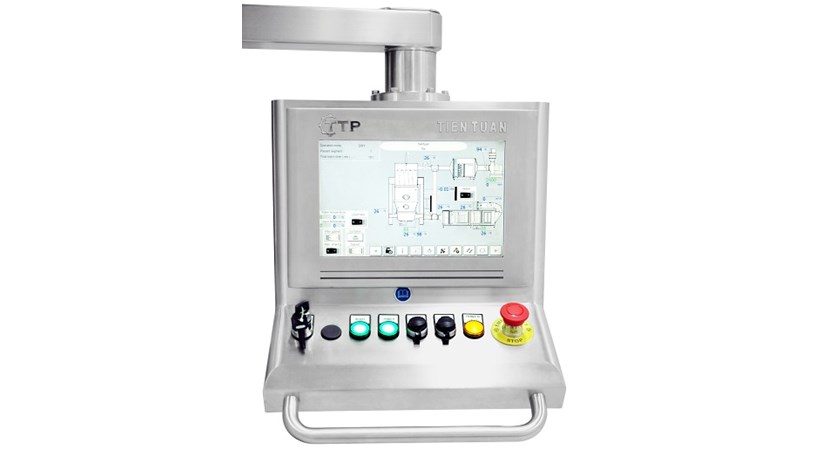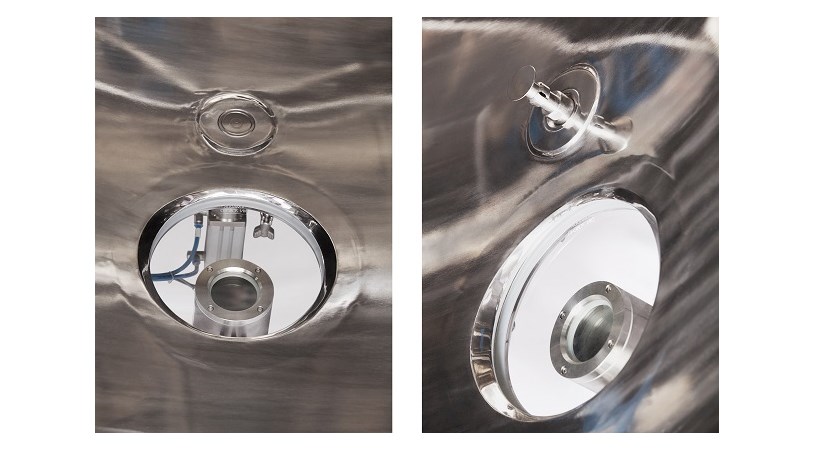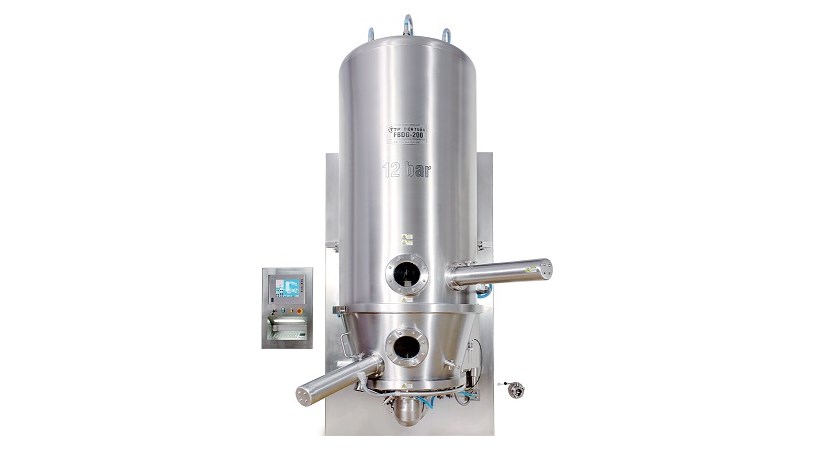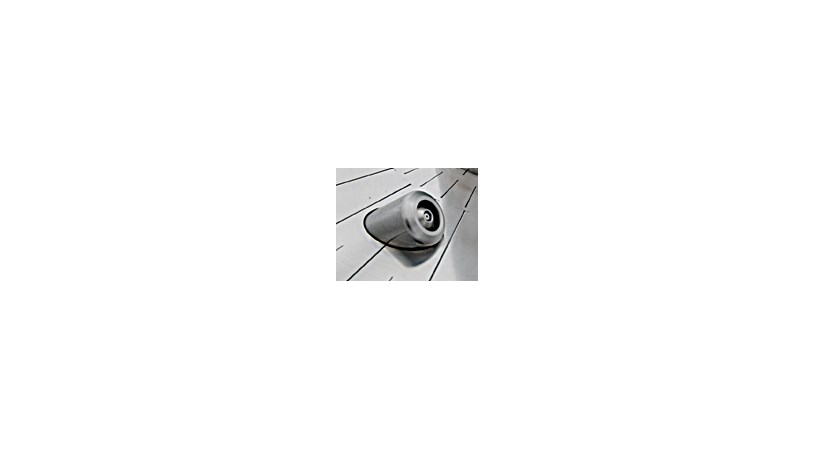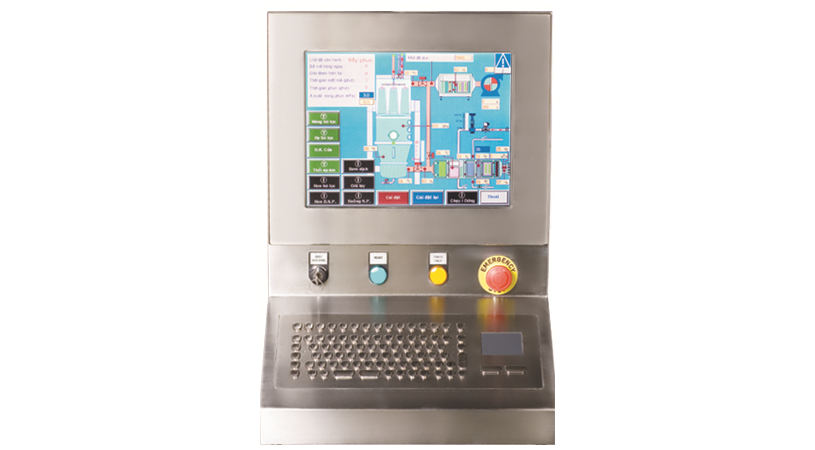 Machine's design follows EU safety regulations, all functions, mechanical parts are made in accordance with ergonomic standard. Users can benefit from comfortable and user friendly operation.
Fluid Bed Dryer & Granulator with advanced design and innovative technology brings the optimum solution for drying and granulating in pharmaceutical industry.
Machine conforms to cGMP (FDA) guideline, EU-GMP, GAMP5, PIC/s in pharmaceutical industry and it is certified with CE, ATEX, and PED.
The machine is flexible for:

- Drying
- Granulation (Top spray)
- Pellet coating (Bottom spray as Wurster coater)
or
- Tangential spray for granulation and pellet coating
Depending on required purpose, there're different types of SS316L bottom screen: 90 degree or 45 degree cutting. 
PLC or IPC control meet demands on operation, monitoring parameters and recipes. PID temperature controller allow to maintain temperature tolerance at ±1oC. User friendly Touch screen makes easy for the user in using of machine. SCADA network is available to help for overall management of ERP.
The machine has WIP function with different type of washing media: city water, detergent, hot water, steam, RO water.
The standard design is 2 bar pressure shock resistance or option 12 bar pressure shock resistance with quick isolation valves.
R&D Fluid bed Dryer & Granulator
Standard Fluid Bed
The machine is designed for Drying, Granulating and Pellet coating. Two technologies can be used on the same machine:

- Granulation by Top spray
- Pellet coating by Bottom spray (Wurster coater type);
and
- Tangential spray for both Granulation and Bottom spray
The inlet and outlet air handling system is installed in the technical room.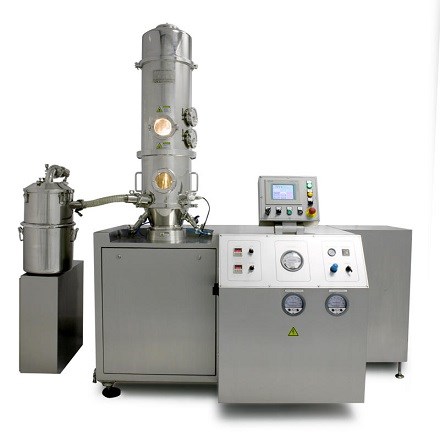 Atex Fluid Bed
In addition to drying, the machine has the flexibility to use Top spray, Bottom spray, and Tangential spray for granulation and pellet coating. It is designed in accordance with the Atex guidelines for use alcohol solvents or organic solvents.
The components are Atex and and air handling system are installed in the technical area.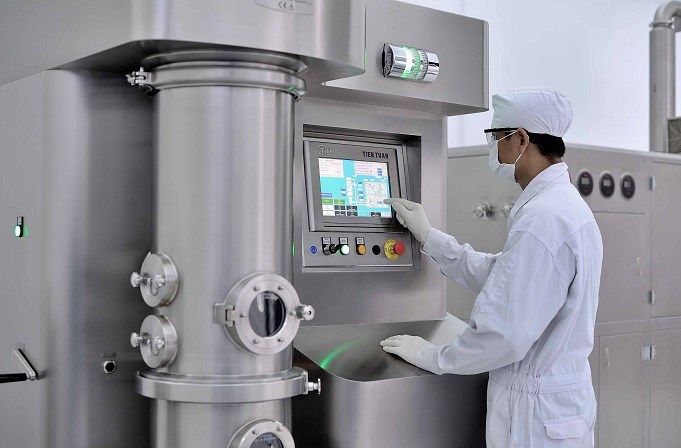 Interchangeable Fluid Bed
To meet the need of both research and trial production of small batches, the FBDG-5/10/20 is flexible to change container size of 5kg / batch, 10kg / batch or 20kg / batch.
Changing the container is very simple, very easy for the user.
Air handling system is installed at technical floor.
The control system with full specifications, batch reports, product formulation, change traceability, data integrity, ... conforms to 21 CFR part 11 standard.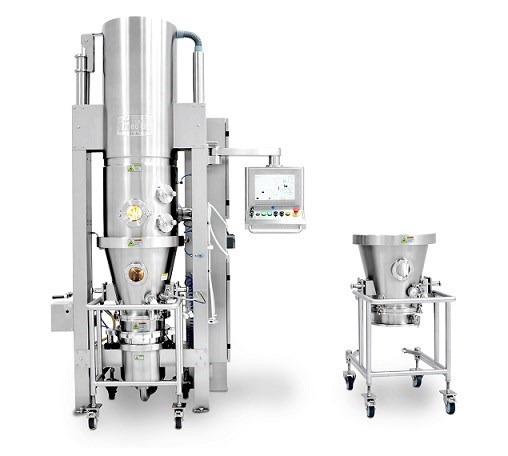 Fluid Bed Dryer & Granulator "wall-mounted"
Fluid Floor Dryer & Granulator "wall-mounted" is especially suitable for granulation or pellet coating, containing alcohol or organic basolvents. This design brings high process efficiency with Tangential spray, ensuring very fast spray time, reducing to 60-75% compared to traditional spray method.
The machine is designed for high pressure vessel and Atex compliance.
The stainless steel 316L container bottom plate, laser cut of 90 degree or 45 degree depending on different applications, ensuring air circulation, easy cleaning and very durable over time.
The WIP/ CIP cleaning function ensures clean, efficient, and validated cleaning process. The cleaning nozzles are arranged logically on the machine, depending on the position, the nozzle can be fixed or retractable to ensure the most effective cleaning and convenience for users.
The machine can be operated independently or synchronised to another one to make a closed line.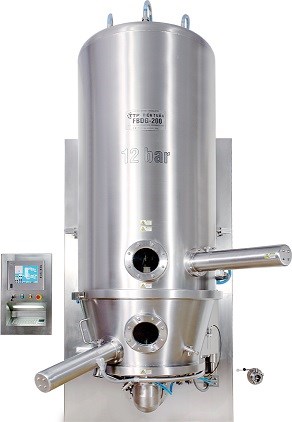 Fluid Bed Dryer & Granulator _ "Free Standing"
The machine is suitable for:
- Drying
- Granulation (by Top pray)
- Pellet coating (by Bottom spray)
State of the art drying technology: Inclined cutting of container bottom plate to create turbulance airflow which makes granules dry quickly. As a result, drying process is more effective.
Depending on customer needs, the machine is designed as 2 bars, 10 bars or 12 bars pressure shock resistant.
WIP (Wash-In- Place) system can be integrated on the machine or through a mobile washing station.