WEBINAR INVITATION:"CLEANING SOLUTION ON PHARMA PRODUCTION"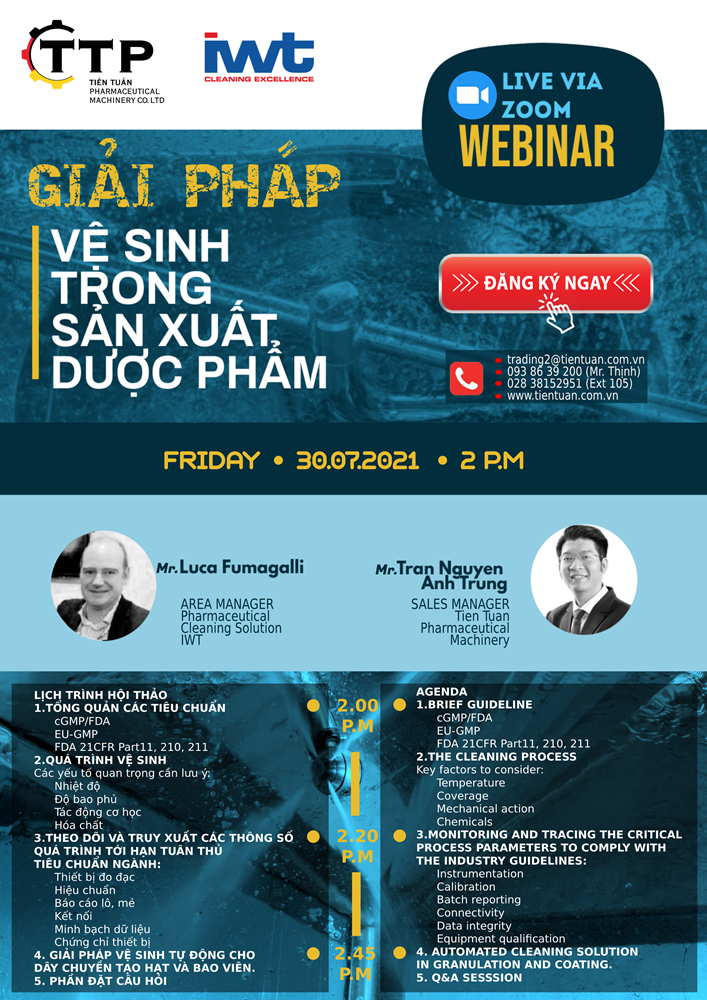 Dear our valued clients,
In the purpose of providing the general knowlegde about surface cleaning in pharmaceuticals, Tien Tuan will organize the online seminar:" CLEANING SOLUTION ON PHARMA PRODUCTION"
If contact part surfaces are not properly washing, they will not be clean, cannot be appraised, risk cross-contamination, and cause great damage to your businesses. So how to clean thoroughly and comply with strict pharmaceutical standards? What are the requirements to comply with cGMP, Eu-GMP, CFR Part 11 standards? What physicochemical factors should be considered? How to design washing process to minimize downtime between batches?
Tien Tuan Pharmaceutical Machinery Company would like to invites you to attend and ask questions to the speaker.
- Time:  2 P.M on Friday, July 30, 2021.

- Means: online via Zoom Online.

- Presenter information, Agenda content and conference schedule as poster.
Participation is free of charge and the number of attendants is limited, please register early via the following link:
👉👉👉 https://forms.office.com/r/UpWsY1i0HE 👈👈👈
For more information, contact email: trading2@tientuan.com.vn, SĐT/ZALO: 093 86 39 200 (Mr. Thomas).
Tien Tuan Pharmaceutical Machinery Manufacturing Company is pleased to welcome you to the Conference.
Best regards./.